106 Rosalie Road, Bailey, Colorado 80421             Phone: 303-838-2161
Pastor: Pete Scheele     Email: shepherdofrockies@gmail.com
Welcome to
Shepherd Of The Rockies
Lutheran Church in Bailey Colorado
Hi! We're the only Lutheran church in Bailey Colorado and we're so thankful you found us! 
If you're looking for a friendly, welcoming mountain church, then you're in the right place.
Our congregation may be small, and the weather may not always be on our side, but the atmosphere is always warm and cheerful.
- We'd love for you to come and worship with us! -
Where Are We?
We're located just off Highway 285 about an hour south west of Denver - you can see our church from the highway.
We serve the Highway 285 corridor mountain community, with some members even driving all the way from Littleton or Fairplay to gather with us.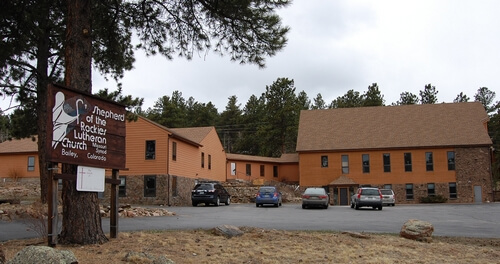 Our services begin at 9am every Sunday.
The view of Mount Rosalie through the huge window behind our altar is simply breathtaking!
Yes - our church in Bailey Colorado was built facing this direction specifically to take advantage of this amazing view of God's creation!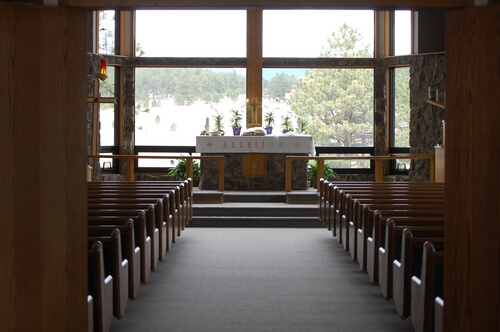 We Love Music...And Good Food!
We have an active praise band and strive to include contemporary music in most of our services.
We always have 'fellowship' time after each service where we gather in the fellowship hall for drinks, snacks, and socializing.
And...if you haven't been to one of our special Mother's Day, Father's Day, or Easter breakfast banquet's then you're seriously missing out!
Yes - We Do Study The Bible
Sunday school (10:30am) and Bible Study (10:45am) are on Sundays after fellowship and run for approximately one hour.
Currently, children's confirmation classes are run by Pastor Pete Scheele at 12 noon on Sundays.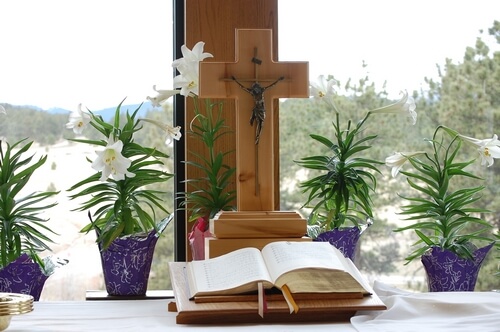 But, We Love Being Social Too
Men's Breakfast and Elder's Meetings are the second Saturday of every month beginning at 8am.
LWML (Lutheran Women's Missionary League) meetings are the third Saturday of every month at 9am.
If you have any questions, please feel free to contact us!
Some Graceful Thoughts...
-Think of time as a priceless gift; develop an awareness of its incomparable value and examine your conscience in this light.-
-Are you using your time according to God's plan, or are you throwing it away?-
-If tomorrow were never to dawn, what would you do for God today?-
-To be a good steward is to be conscious that all things we have on earth are generous gifts from God.-
-Stewardship is to care, to have concern, and to give thanks by giving of what has been given to us.-
Come And Worship With Us!
We'd love to have you come and worship with us!
Visit our church in Bailey Colorado to give thanks and praise!